Share:
XRP funds recorded net institutional inflow of $500,000 in the past week. 
Ripple whales distributed their XRP token holdings while retail investors accumulated in the last three weeks. 
XRP price is likely to rally to the $0.68 target in its ongoing uptrend. 
XRP price sustained above the $0.60 mark, early on Tuesday. The altcoin is in an uptrend, amidst rising capital inflow from institutional investors to XRP funds. Over the past three weeks, large wallet investors have distributed their XRP token holdings, and retail traders have scooped up the altcoin, supporting a bullish thesis.
Also read: Ripple hits new milestone in payments, likely catalyst for XRP price
Daily Digest Market Movers: XRP funds receive institutional capital, retail traders accumulate Ripple
XRP funds have received an inflow of $0.5 million from institutional investors in the past week, and the year-to-date total is $13 million, according to data from CoinShares' latest report.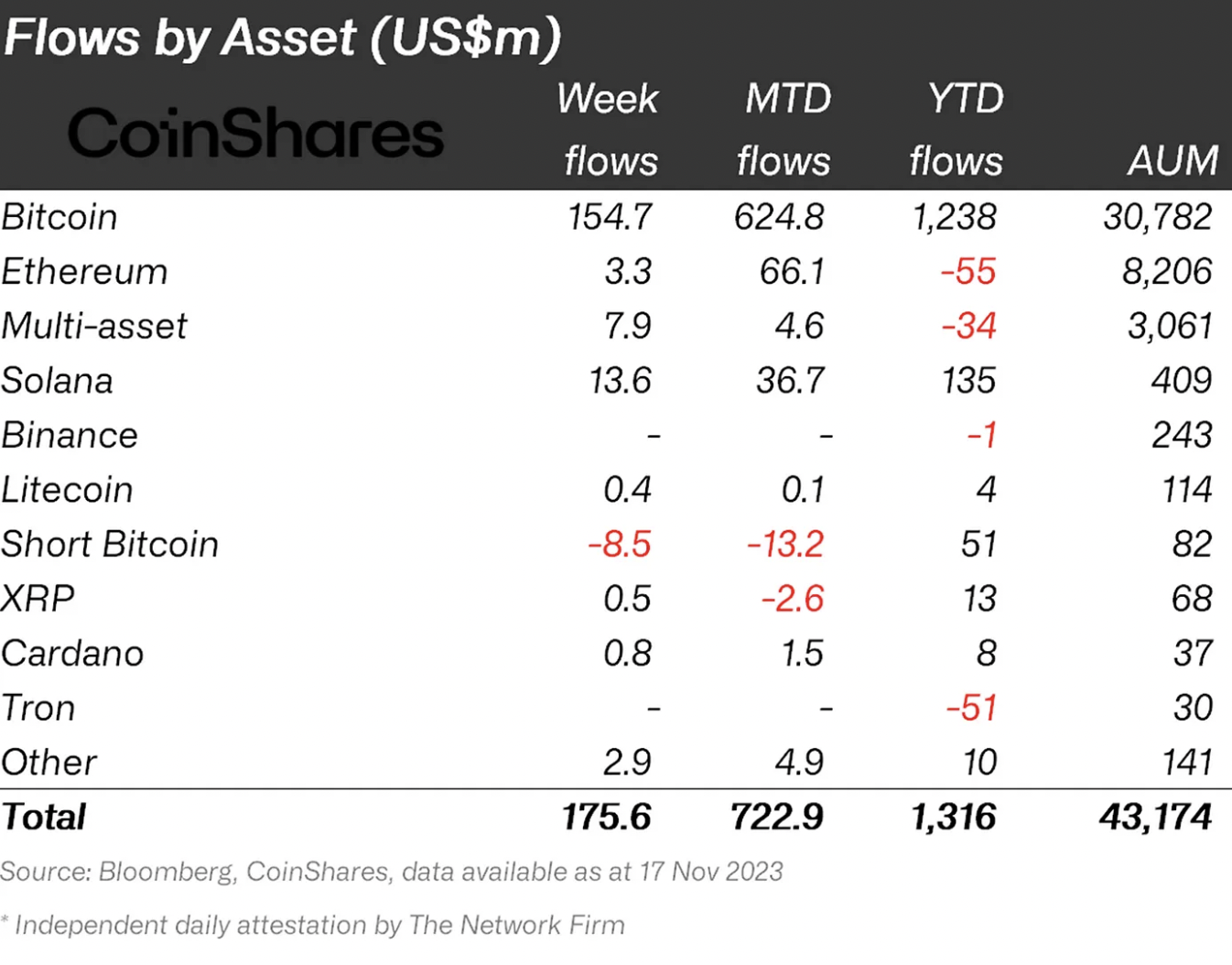 Weekly crypto fund inflows by asset, as seen in CoinShares report
Institutional capital inflow is considered bullish for the asset as rival altcoins like Litecoin and Tron, recorded outflows in the past week. 
While institutions poured capital in XRP funds, large wallet investors, whale segments holding between 100,000 and 10 million tokens have distributed their holdings of the altcoin. 
Based on data from crypto intelligence tracker, Santiment, whales in two segments, 100,000 to 1,000,000 and 1,000,000 to 10 million shed their XRP holdings between November 4 and 21, while retail trader cohorts holding between 10 and 100,000 XRP tokens have accumulated the altcoin.


XRP token accumulation by retail, distribution by whales
As seen in the chart above, retail XRP token accumulation is typically followed by a sustained rally in the asset's price, similar outcome can be expected following the ongoing event. 
On-chain metric Market Value to Realized Value (MVRV) indicates the average potential profit/loss that investors who acquired XRP in the last 30 days will realize if they all sell at current price. 
According to Santiment data, MVRV ratio (30 days) is currently -0.97, XRP holders who scooped up the token in the past 30 days would therefore realize a loss at the current price of $0.62. This implies, traders are less likely to sell the asset, leaving room for a continued rally in the altcoin. 


MVRV Ratio (30 days) and price 
Technical analysis: XRP price rally could extend, 10% gains on the horizon
XRP price is in an uptrend in November 2023. The altcoin is on track to extend its gains, with the recent developments in the altcoin. XRP price eyes the 50% retracement level of the decline from the July 13 top of $0.93 to Aug 17 low of $0.42.
XRP price is likely to rally to the $0.68 mark, over 10% gains from the current level. The altcoin could find support at the 50-day Exponential Moving Average (EMA) at $0.59, in the event of a decline.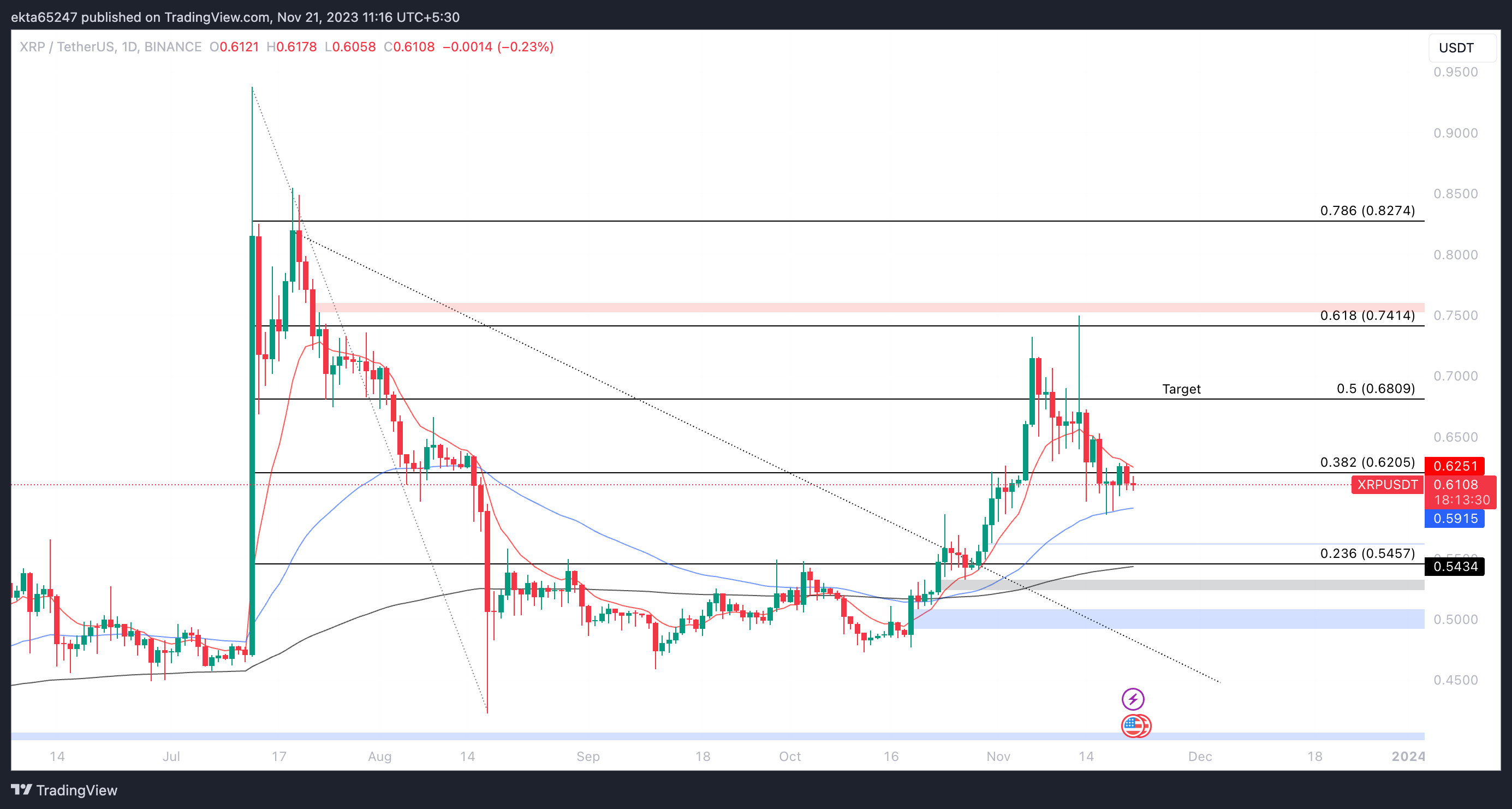 XRP/USDT 1-day chart
A close below the 50-day EMA could invalidate the bullish thesis for the asset and suggest further correction in XRP price.
Cryptocurrency metrics FAQs
The developer or creator of each cryptocurrency decides on the total number of tokens that can be minted or issued. Only a certain number of these assets can be minted by mining, staking or other mechanisms. This is defined by the algorithm of the underlying blockchain technology. Since its inception, a total of 19,445,656 BTCs have been mined, which is the circulating supply of Bitcoin. On the other hand, circulating supply can also be decreased via actions such as burning tokens, or mistakenly sending assets to addresses of other incompatible blockchains.
Market capitalization is the result of multiplying the circulating supply of a certain asset by the asset's current market value. For Bitcoin, the market capitalization at the beginning of August 2023 is above $570 billion, which is the result of the more than 19 million BTC in circulation multiplied by the Bitcoin price around $29,600.
Trading volume refers to the total number of tokens for a specific asset that has been transacted or exchanged between buyers and sellers within set trading hours, for example, 24 hours. It is used to gauge market sentiment, this metric combines all volumes on centralized exchanges and decentralized exchanges. Increasing trading volume often denotes the demand for a certain asset as more people are buying and selling the cryptocurrency.
Funding rates are a concept designed to encourage traders to take positions and ensure perpetual contract prices match spot markets. It defines a mechanism by exchanges to ensure that future prices and index prices periodic payments regularly converge. When the funding rate is positive, the price of the perpetual contract is higher than the mark price. This means traders who are bullish and have opened long positions pay traders who are in short positions. On the other hand, a negative funding rate means perpetual prices are below the mark price, and hence traders with short positions pay traders who have opened long positions.
---


Read More: XRP could rally 10% higher with institutional interest in Ripple funds